Madison Beach Hotel Epicurean Series | A Taste of Burgundy
April 2020
An exclusive chef dinner featuring guest chef and author Katherine Frelon who founded the Gourmet Culinary and Wine Retreat of Le ferme de la Lochere in the heart of Burgundy, France. This event is brought to you in partnership with Active Gourmet Holidays.
Chef Katherine joins us to share her love of French Cooking by presenting a traditional Burgundian meal for your dining enjoyment. Wine will be paired with each course.
The evening includes a welcome reception followed by a three course plated dinner plus dessert.
Event begins promptly at 7 p.m. | Attire: Jackets
This ticketed and exclusive event has limited seating.
PRICING:
$99 per person, includes all food and beverage outlined below.
$125 EventBrite ticket price is INCLUSIVE of gratuity and sales tax .
Ticket Pricing DOES NOT includes EventBrite Processing Fees
This ticketed and exclusive event has limited seating.
ADD-ON EVENT: In addition to the dinner, Chef Katherine will be hosting a Culinary Showcase and demonstration on Saturday, April 4 at 11 a.m. This 60 minute culinary adventure will provide the opportunity to spend exclusive time with Chef Katherine and will teach you some new skills to use when cooking at home. Limited to 20 guests. $25 per person, inclusive of gratuity and tax. Does not include EventBrite ticketing fees.
---
MENU
Reception
Gougere's with Dijon mustard and cheese
Spiced honey bread with foie gras and onion confit
Wild mushroom cassoulet
Dinner
French onion soup with gruyère cheese and french bread croutons
Plats Principal : Poulet Gaston Gerard
Platter of French Cheese with quinze jelly
Dessert
Tart Tatin with vanilla ice-cream
Wine will be paired with each course.
While we do our best to accommodate all requests, Dietary Restrictions may not be able to be accommodated due to specially paired and designed menus. Please reach out directly by email with any specific questions, Jpfeiffer@distinctivehospitalitygroup.com.
---
Make it a Weekend!
Overnight accommodations are available at the award winning Madison Beach Hotel. Arrive Friday in time for dinner and then stay the weekend to tour our quaint Town of Madison and the surrounding areas.
About Chef Katherine Frelon
I'm Katherine Frelon, AKA 'Scatty Chef' for those that knew me in my young days, but let's just say I've matured into the Eclectic Chef era!!
I am a wandering freelance Chef throughout the UK, France & US. I founded the Gourmet Culinary and Wine retreat of 'La ferme de la Lochere', in the heart of Burgundy were my guests are inspired to create fresh, fragrant, seasonal recipes gathering ingredients from local producers and fabulous markets.
My passion is creating delicious, colourful, food sourced from the freshest ingredients and sharing it with others over a glass or two of perfectly paired wine.
Leaving England when I was in my very early 20′s, I set out on an adventure. I renovated various old buildings, learning to roof, plumb and tile along the way; forage for mushrooms; skin some of the most unpleasant looking fish and mammals I'd ever seen, experiment with cheese making, make 'boudin noir' with no skins, rustle up a cauldron of a few hundred snails (all collected by hand, although I'm pleased to say not mine!) and finally made my way to Burgundy, where I settled and worked as a successful Chef for an American/French 5* Hotel Barging Company.
Having searched high and low I finally found 'La Ferme de la Lochere', the perfect setting to share my love of all things French – the markets, the food, the wine and the wonderful local artisans. 'La Ferme de la Lochere', became the epicentre of gourmet culinary wine adventures!
As well as my freelance catering commitments that take me to the US and the UK, I have a passion for writing, being included in the BBC Good Food magazine and providing special occasion recipes in Worldwide publications in print and on line. My inspiration comes from all over the world inspired by the markets I visit and the people I meet and I love creating recipes that are easy to follow and reproduce at home.
I look forward to cooking for you on Friday, April 3, 2020.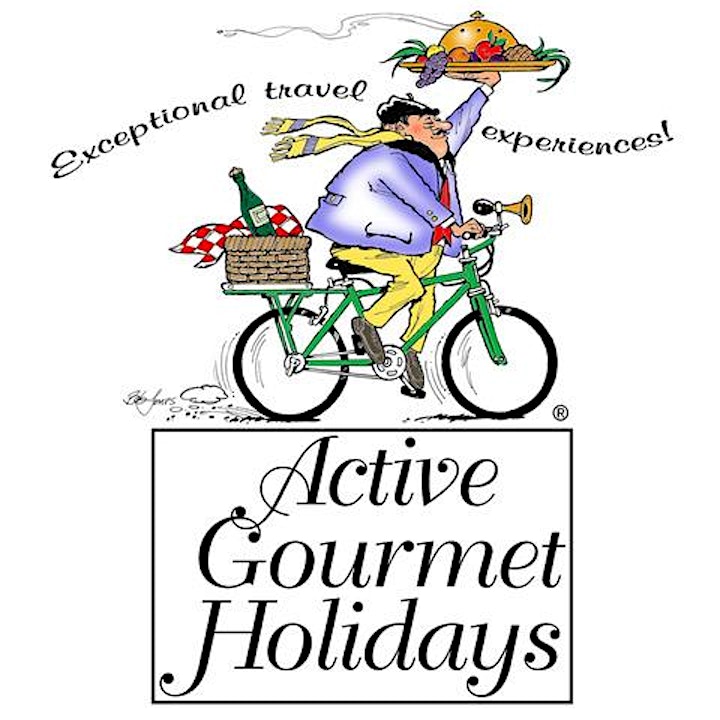 About Active Gourmet Holidays
Since 2002, Active Gourmet Holidays has been offering the finest in culinary and active travel. We take you to Italy, France, Spain, Portugal, Greece, Croatia, Slovenia and Peru. Each vacation is unique, but most include hands-on cooking lessons from talented chefs; vineyard tours with wine tastings and wine education; visits to food markets and local food producers; dinners at Michelin-rated restaurants; and excursions to local villages and renowned points of interest. Active Gourmet Holidays caters to single travelers, couples, small groups and culinary student groups and offers accommodations ranging from charming farmhouses to five star hotels, all set in unforgettable locales. In many cases, our getaways can be paired with active elements, such as hiking, biking, yoga and more.